Sunflowers are a hot favorite for Summer 2022 Weddings
If you want a fresh, sunny, and warm floral theme for your wedding, consider sunflowers. The sunflower represents happiness, prosperity, and peace. What else could you want for your marriage? If you want a bright yellow sunflower wedding, keep in mind that the best time to get real sunflowers is from July to September. However, if you don't mind using silk sunflowers as decorations, you can have this type of wedding any time of year.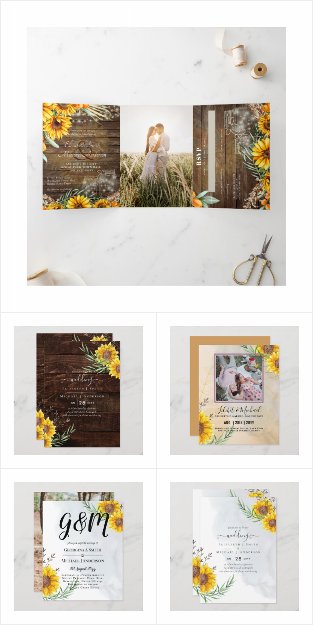 New for 2022!
Rustic Sunflowers and Pampas Grass Invitations and Matching Wedding Stationery from 0.30!
Sunflowers have long been a hot favorite for rustic barm, countryside and garden Summer weddings but the latest trend incorporates Pampas Grasses. Here we are small sampling of a huge collection of Sunflower and Pampas Grass themed wedding invitations and matching reception tableware, decorations, stationery and accessories including seating charts, guest books and more.
You can view the complete collection HERE.
The best sunflower wedding decoration include Sunflower candles, sunflowers printed on tablecloths and napkins, sunflower lights, sunflower flower arrangements (best complemented by other brightly colored flowers such as white roses), and much more. However, there is no real reason to stop with the decoration. Why not give the groom sunflower tie holders or the bride and bridesmaids sunflower hair pins? Or sunflower embellishments on the dresses? You have a lot of options here, so think outside the box. Colors for the decorations and dresses should be light, such as yellow, orange, and crème. Colors that reflect the summer season and give off a sunny, warm, and relaxed vibe. To loosen up the theme, dab on some red and brown.
Bridal Party Flowers
Typically, each bridesmaid carries a single sunflower. The bride carries a bouquet of sunflowers, which is frequently complemented by roses or chamomiles. More ideas can be obtained from your local florist. They know the best flowers to use for your wedding depending on the time of year. If you're on a tight budget, ask them about silk flowers for your bouquet's complimentary flowers and decoration.
Favors for the Wedding
You can also use your decoration as wedding favors. As favors, give some extra candles similar to the ones you used for your table centerpieces. Alternatively, you could give your guests real sunflowers to take home with them. A custom bagged sunflower seed with your names and wedding date on the bag makes an excellent wedding favor. Your guests can plant the seeds in their garden next spring and remember your wonderful special day every time they see the grown sunflower in the summer.